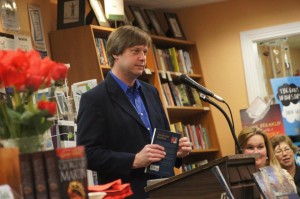 14 OCTOBER 2017: LIT CRAWL S.F.
Rob will be participating in this year's Lit Crawl San Francisco, Saturday, 14 October. He'll be reading at Muddy Waters (521 Valencia, near 16th Street) from 5-6 p.m. Hope to see you there!
19 OCTOBER 2017: WRITER'S VOICE, CSU-CHICO
Rob will read from Spectators: Flash Fictions as part of the Writer's Voice reading series at California State University, Chico, 7:30 p.m., Colusa 100B.
2 NOVEMBER 2017: SACRAMENTO STATE UNIVERSITY
Rob will read his fiction at 6:00 p.m. in the Library Gallery on the campus of Sacramento State University. Free & open to the public.
9 NOVEMBER 2017: YUBA LIT PRESENTS FLASH FICTION, NEVADA CITY, CA
Rob will read his fiction as part of the Yuba Lit reading series, National Hotel, Nevada City, CA (211 Broad Street), 7:00 p.m.
11 JANUARY 2018: WHY THERE ARE WORDS, SAUSALITO
Rob returns to Why There Are Words in Sausalito, CA. A truly excellent Bay-Area reading series!
9 MARCH 2018: AWP BOOKFAIR, TAMPA, FL
Rob will be part of the Five Oaks Press Reading on Friday, 9 March 2018, at the AWP Bookfair, part of the AWP 2018 National Conference (Tampa Convention Center). The fun happens on Stage 1, 3:00-4:15 p.m.