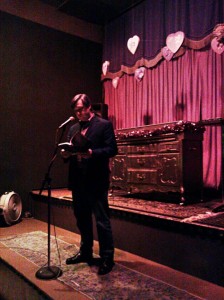 RADIO INTERVIEW: AUDIO PODCAST
Listen to the podcast of Rob's radio interview on "Nancy's Bookshelf," promoting The Farther Shore. The interview originally aired on 9 March 2012 on NPR affiliate KCHO 90.7 FM, Northstate Public Radio.
PRINT INTERVIEWS: ROB DISCUSSES THE FARTHER SHORE
Rob discusses The Farther Shore & writing in an interview (July, 2013), posted on the Dan O'Brien Project blog.
Read a brief Q&A with The Story Prize's editor, Larry Dark (June, 2012).
In April 2012, Rob discussed his work with Butte College's literary blog The Haberdasher. Rob Davidson_Interview with The Haberdasher.
In March 2012, Rob sat down with Inside Chico State to discuss his new book. Read the interview.
SELECTED REVIEWS OF THE FARTHER SHORE
Oxford American online, 29 October 2012
Peace Corps Worldwide, 25 April 2012
Chico News & Review, 5 April 2012