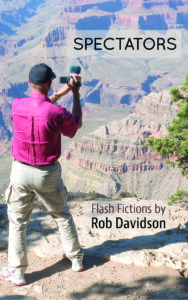 SPECTATORS: FLASH FICTIONS
Five Oaks Press, 2017
ISBN 978-1944355319
"A small but mighty collection of textual snapshots… Flash fiction at its best that's definitely worth a look." —Kirkus Reviews
Spectators: Flash Fictions is available for purchase directly from Five Oaks Press or from Amazon.com.
"What can we know of what's most profound? In these brief and lyrical fictions, Rob Davidson offers us glimpses of what remains out of reach. He writes, 'There is inside of us dark music, the melody of expectation.' Brilliant, his dark music—whether his words fulfill or expand or thwart our desires. His wise language assures us: 'Disappointment has its benefits, nudging us toward joy.' Tiny marvels, these flashes. Beautiful mystery, this book."
—Peggy Shumaker, author of Just Breathe Normally
"Sometimes you command more attention by lowering your voice. Sometimes you say more by choosing to say less. Sometimes the essence of a situation, a character, even of an entire life presents itself, suspended like a specimen, in a single gesture, a spoken phrase, an image, a glance. Rob Davidson's stories in Spectators go straight for the metaphysical jugular, offering vividly sketched characters in whom you will surely recognize yourself, creating stealthily constructed miniature worlds in which you will surely recognize the big old world you and I walk through on a daily basis, dumbfounded and amazed and taking in the sights."
—Troy Jollimore, author of Syllabus of Errors
"As the beautifully crafted stories of Spectators build, become brief steps and steles in a longer journey, the voices and visions, the flashes and glimpses lead us to new thresholds: that region of memory and desire, story and imagination, where we 'eternally arrive.' Even in all its brevity, fragmentation, and rendering of globalization's affects, Spectators is a big, bold, expansive, and heartfelt work that shines with Rob Davidson's masterly writing."
—Fred Arroyo, author of Western Avenue and Other Fictions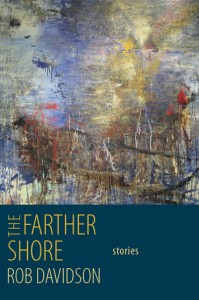 THE FARTHER SHORE: STORIES
Bear Star Press, 2012
ISBN: 9780979374593
The Farther Shore is available for purchase from Bear Star Press or from Small Press Distribution.
"Davidson is a wonderful writer, a real find. There are a lot of writers out there who can put a story together and make the surfaces of their work gleam. What is special about Davidson's stories is something else altogether. He has the ability to make you care deeply about his characters. They become, for all their occasional quirkiness, as real as the folks next door."
—Steve Yarbrough, author of The Unmade World

"A good short story collection ought to teach us about those sometimes tangly moments that comprise the fabric of the everyday, and it ought to make us curious about the lives of the characters beyond the stories. Like a back-fence gossip, I find myself imagining what went before, and what comes after, for the deftly-drawn characters in The Farther Shore. And Davidson transports us utterly to the places where the stories are set. The last story—"Criminals" — wondrously displays his knowledge of the island of Carriacou, even as it disturbs. In this collection, the surface glitters and seduces, while the author takes you by the hand to a thorny, subterranean psychological realm where simple answers you've held dear may have to be relinquished. I could not put it down."
—Patricia Henley, author of Other Heartbreaks and Hummingbird House

"Rob Davidson writes with humor and compassion about the things that matter most: the inevitable missteps of the heart, and our endless quest to set things right again."
—Clint McCown, author of War Memorials
"The superlative story 'Criminals' is layered and old-fashioned, if there is such a thing. It immediately distinguishes itself by being patient and operating by way of the reluctant voice. [Davidson] is tolerant of the real ambiguities we muddle through to be human. 'Criminals' is a good big story and I recommend its nuanced pleasures to your healthy attention spans."
—Ron Carlson, author of The Signal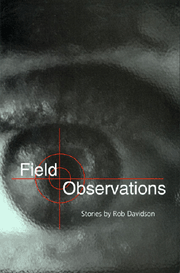 Field Observations is available for purchase from the University of Missouri Press, or from Amazon.com.
"Field Observations is a collection of short stories that excel in their lucidity of storytelling. Davidson writes in a sparse and often virtually transparent style that allows us to get deeply involved with these stories before we even recognize that just as we get to know these finely-drawn characters, they are changing before our eyes and recognizing that the wolrd is far different that they once imagined."
—Sycamore Review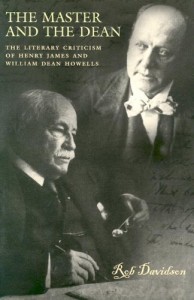 THE MASTER AND THE DEAN: THE LITERARY CRITICISM OF HENRY JAMES AND WILLIAM DEAN HOWELLS
University of Missouri Press, 2005
ISBN: 9780826215796
The Master and the Dean is available for purchase from the University of Missouri Press, or from Amazon.com.
"Consistently intelligent, thoroughly researched, gracefully written…. This is an excellent study, probably the definitive study of the criticism of James and Howells."
—John W. Crowley, author of The Dean of American Letters: The Late Career of William Dean Howells