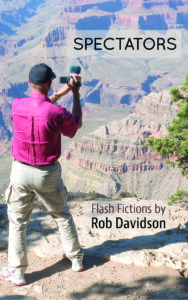 SPECTATORS: FLASH FICTIONS

"A small but mighty collection of textual snapshots… Flash fiction at its best that's definitely worth a look." —Kirkus Reviews
WELCOME!
This is the official web site for Rob Davidson, a fiction writer, scholar, and teacher living in Chico, California. Thanks for visiting!
Rob is delighted to announce the publication of his new collection of flash fictions, Spectators, from Five Oaks Press (2017).
Work included in this collection appeared previously in Saranac Review, South Dakota Review, Arroyo Literary Review, Roger: An Art and Literary Magazine, and the edited anthology Fog & Woodsmoke: Behind the Image. Written in response to the visual art & photography of Tom Patton, Stephani Schaefer, and Sara Umemoto, this book presents a new dimension of Rob's fiction. (Read Rob's blog post for The Story Prize on inspiration from images.)
Spectators: Flash Fictions is available for purchase directly from Five Oaks Press or from Amazon.com.
UPCOMING APPEARANCES
11 JANUARY 2018: WHY THERE ARE WORDS, SAUSALITO
Rob returns to Why There Are Words in Sausalito, CA. A truly excellent Bay-Area reading series!
9 MARCH 2018: AWP BOOKFAIR, TAMPA, FL
Rob will be part of the Five Oaks Press Reading on Friday, 9 March 2018, at the AWP Bookfair, part of the AWP 2018 National Conference (Tampa Convention Center). The fun happens on Stage 1, 3:00-4:15 p.m.
Check the Appearances page for more of Rob's upcoming public outings.