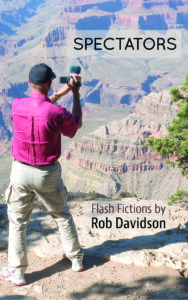 SPECTATORS: FLASH FICTIONS

"A small but mighty collection of textual snapshots… Flash fiction at its best that's definitely worth a look." —Kirkus Reviews
WELCOME!
This is the official web site for Rob Davidson, a fiction writer, scholar, and teacher living in Chico, California. Thanks for visiting!
Rob is delighted to announce the publication of his new collection of flash fictions, Spectators, from Five Oaks Press (2017).
Work included in this collection appeared previously in Saranac Review, South Dakota Review, Arroyo Literary Review, Roger: An Art and Literary Magazine, and the edited anthology Fog & Woodsmoke: Behind the Image. Written in response to the visual art & photography of Tom Patton, Stephani Schaefer, and Sara Umemoto, this book presents a new dimension of Rob's fiction. (Read Rob's blog post for The Story Prize on inspiration from images.)
Rob's publisher, Five Oaks Press, has nominated Spectators for several awards, including the 2017 Pulitzer Prize in fiction, the Story Prize, the PEN/Faulkner fiction award, and the Foreword INDIES book award. Here's hoping!
Spectators: Flash Fictions is available for purchase directly from Five Oaks Press or from Amazon.com.
NEW REVIEWS, PODCASTS & VIDEO AVAILABLE
Read the Kirkus Reviews warm appraisal of Spectators: Flash Fictions (August 2017). Thanks, Kirkus! There's also a link to the Chico Enterprise-Record's review of Spectators (22 July 2017).
Like podcasts? On the Podcasts & Interviews page there are three new podcasts of Rob discussing Spectators: Flash Fictions on National Public Radio (KCHO 91.7 FM) and community radio (KZFR 90.1 FM) in Chico, CA.
Visit the Video page to watch a KRCR TV (Chico, CA) news report on Rob's Pulitzer nomination for Spectators!
UPCOMING APPEARANCES
Check the Appearances page for more of Rob's upcoming public outings.