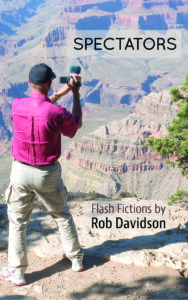 WELCOME!
This is the official web site for Rob Davidson, a fiction writer, scholar, and teacher living in Chico, California. Thanks for visiting!
SPECTATORS: FLASH FICTIONS

Rob is delighted to announce the publication of his new collection of flash fictions, Spectators, from Five Oaks Press (2017).
Work included in this collection appeared previously in Saranac Review, South Dakota Review, Arroyo Literary Review, Roger: An Art and Literary Magazine, and the edited anthology Fog & Woodsmoke: Behind the Image. Written in response to the visual art & photography of Tom Patton, Stephani Schaefer, and Sara Umemoto, this book presents a wholly new dimension of Rob's fiction.
Available for purchase now from your favorite online booksellers, or directly from Five Oaks Press. We'll keep you posted on upcoming author appearances.