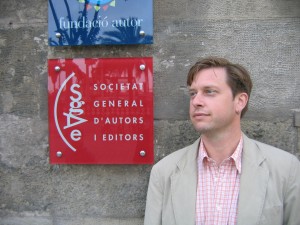 WELCOME!
This is the official web site for Rob Davidson, a fiction writer, scholar, and teacher living in Chico, California. Thanks for visiting!
NEW CHAPBOOK FORTHCOMING

Rob is delighted to announce that a new chapbook of flash fictions, entitled Spectators, is forthcoming from Five Oaks Press in spring 2017. Work included in this collection appeared previously in Saranac Review, South Dakota Review, Arroyo Literary Review, Roger: An Art and Literary Magazine, and the edited anthology Fog & Woodsmoke: Behind the Image. Written mostly in response to the visual art & photography of Tom Patton, Stephani Schaefer, and Sara Umemoto, this book presents a wholly new dimension of Rob's fiction. We'll keep you posted on the book launch and upcoming author appearances.
NEW GALLERY SHOW
Many of the flash fictions included in Rob's forthcoming chapbook Spectators were inspired by the visual art of Tom Patton. They've teamed up to present a selection of their work side-by-side at the Morris Graves Museum of Art in Eureka, California, 16 December-29 January 2017. The opening reception will be 7 January 2017, 6-9 p.m. during the First Saturday Night Arts Alive event. Rob and Tom will both be there. If you're in the 'hood, stop on by!
ROB COMPLETES FULBRIGHT AWARD
Rob was the recipient of a Fulbright U.S. Senior Scholars Grant in Taiwan for 2015-2016. He had an incredible year teaching creative writing and American literature at Tunghai University in Taichung City, where he made many new friends. Check out his video interview reflecting on his experience!